Samantha Radcliffe
Math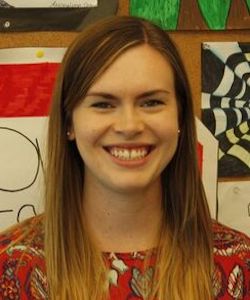 Email:
Samantha_Radcliffe@dpsk12.org
Department(s):
Teacher
My college education/degree:
B.A. in Mathematics and Secondary Education from Saint Louis University.
I am currently working on a Masters Degree from CSU Global
Why I am committed to supporting the students at Legacy:
This is my fourth year teaching at Legacy. I love working with high school students and seeing all the amazing things they continue to accomplish! This school truly feels like a family to me, and I am proud to be a part of the Panther community.
My goal in life:
I am passionate about teaching math as a tool to seek justice, think critically, and make sense of the world. I hope to continue to do this for my students, while also always being ready to learn alongside them and improve myself as an individual.
My favorite book:
Tiny, Beautiful Things by Cheryl Strayed
My hobbies/interests are:
I like to hike, travel, read, go to concerts, stay active, and spend time with friends and family. I am a big Chicago sports fan (go, Cubs!). I learned how to ski a couple years ago, so that's a new hobby of mine!
Where I am from:
Chicago, IL